I am teaching STPM Mathematics (T) and Mathematics (M) at Ai Tuition Centre, Jalan Hang Kasturi, Kuala Lumpur
Free Trial Classes (17th May -19th May 2018)
All students are invited to attend the Mathematics (T) and Mathematics (M) free trial classes at Ai Tuition Centre, Jalan Hang Kasturi, Kuala Lumpur. Ai Tuition Centre is located at Kuala Lumpur City and it is at 5 minutes walking distance from Pasar Seni LRT & MRT station, and other bus stations.
Free trial week 17th to 20 May 2018. All students can attend the classes for free and collect the notes from counter by write your name at the counter. To skip the queue, you can also can register trial class at our facebook m.me/aituition and show the counter staff the pass (obtain from facebook messenger) to collect the notes.
If you miss the classes from 17th to 20th May, you can also attend the trial classes for other weeks. But only every week 2 and week 4 will be free trial. Contact me for more details.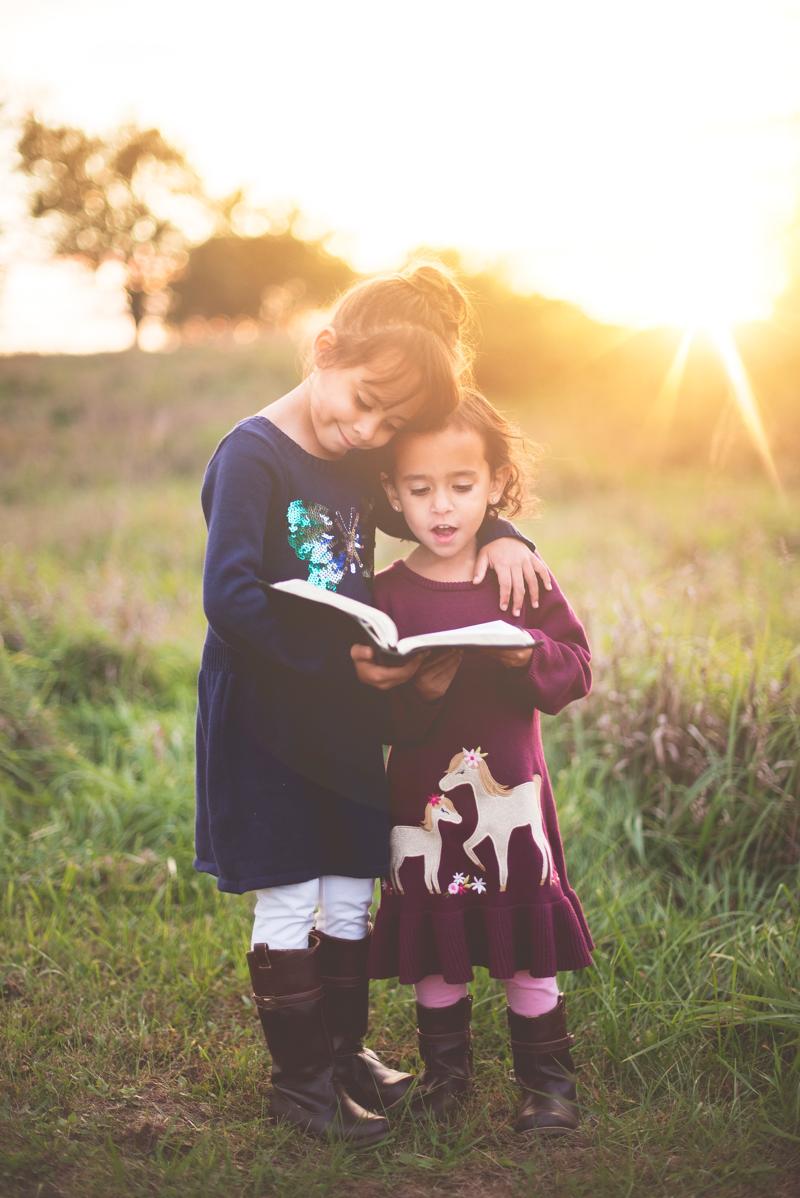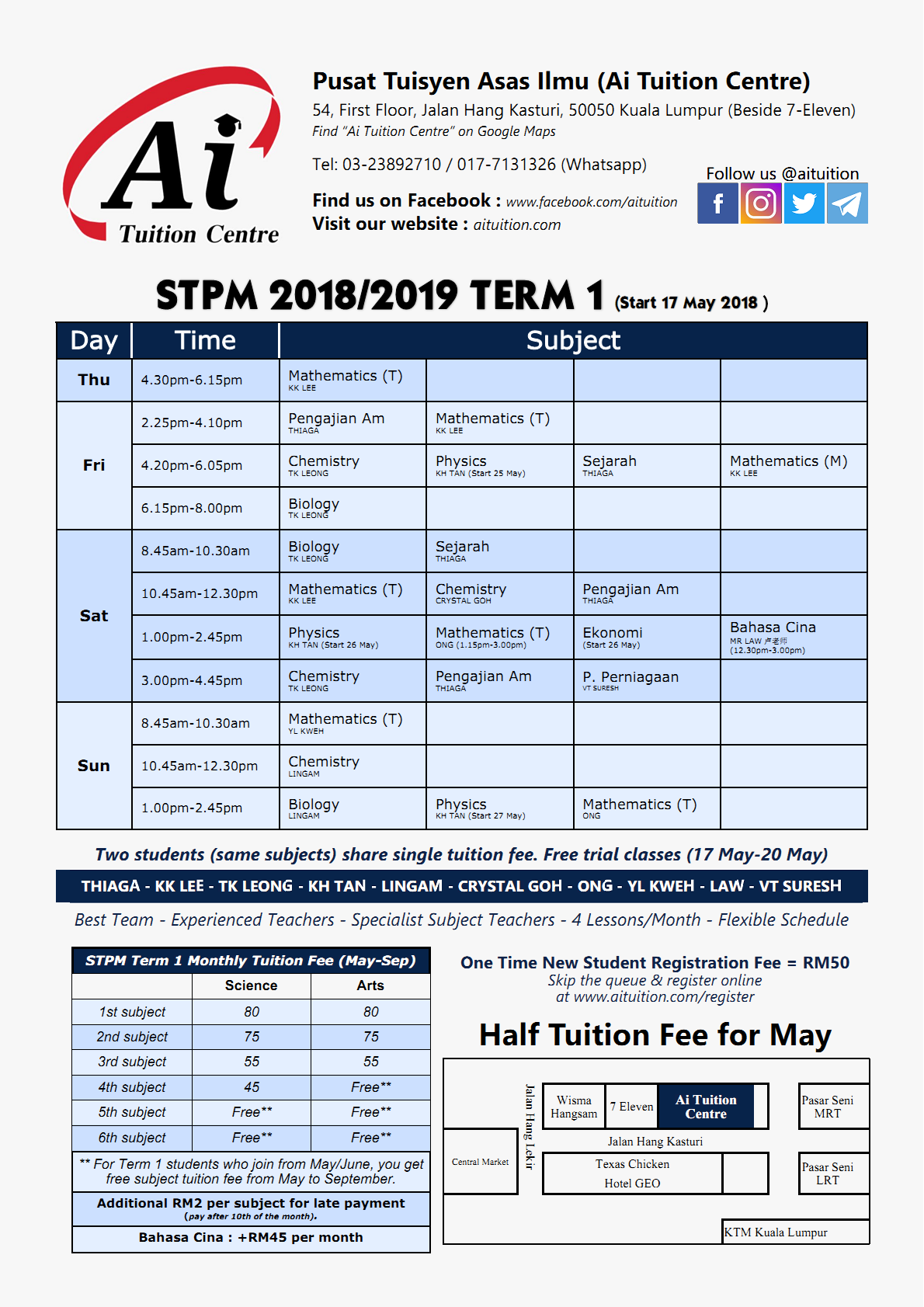 complete STPM science and arts subject tuition
Two students share single tuition fee
Two students share single tuition if both students take same subjects (same teacher) and take at least 3 subjects. No trial class is allowed except for 1st week if students share tuition fee among themselves.
Terms & Conditions
1. Both take same subjects (same teacher)
2. Take at least 3 subjects
3. No trial class except 17th to 20th.
4. Centre will collect 1 fee. And students share among themselves.
5. Both students must pay registration. (cannot share)
6. Only for term 1 students. (not Term 1 (U))
Complete STPM Tuition Timetable
Registration
All students are advised to register online to skip the queue at counter. Click the link below to register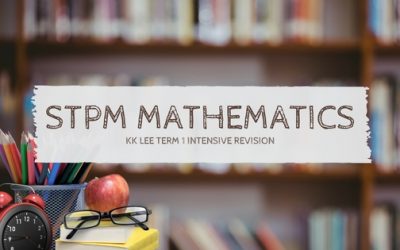 Check the complete schedule of KK LEE STPM Term 1 Intensive Revision classes. Classes are available at Ai Tuition Centre KL, SS19 and PT Teras Usaha.
read more
"Distance from the tuition centre to my house is quite far for me, but I still went there! It is such a wasting time to go there, which needed an hour to KL by KTM from our school or my house. Anyway, I have a gang of friends accompanying me to there!
The first class I attended, I felt his teaching technique are very funny and interesting especially the graph! Besides, he taught what's important and also some extra ""shortcut"" to solve the solution and skip the ""rubbish"" parts! 😂
I'm sure will suggest my friends to here for tuition, if no, they will surely missed the interesting parts of MT and our cute teacher! 😄😄😄 "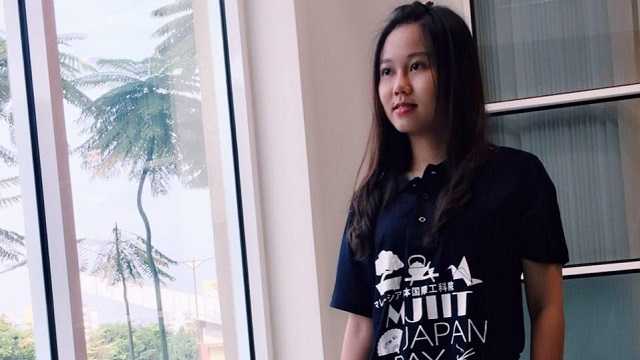 Register online to enroll
All students are advised to register online to skip the queue at counter.