Here are our most recent updates posts
- Feel free to check it out -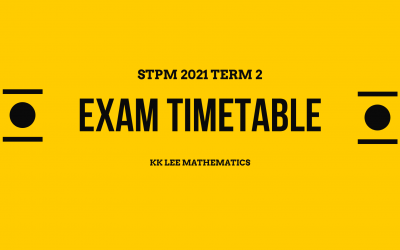 View the exam timetable for STPM 2021 Term 2. Countdown to STPM 2021 Examination. Join my tuition to help you achieve better results in the exam. Contact (60) 018-2016992 or kklee@kkleemaths.com for more information.
STPM 2015 Trial Exam Papers Request
Most of the schools are having their STPM term 2 trial exam now. If you have any of the papers, please submit all your school Mathematics (T) and Mathematics (M) trial exam papers and answers to me. I will try to retype all the questions in the my standard form. 😀
All the contributors will get one dropbox link to download all the papers i have. Thanks.
Ways to submit Trial Exam Papers
Email your trial exam papers
You can send me the files in pdf, or in picture format to my email at
akeong@gmail.com
.
Whatsapp your trial exam papers
You can take the pictures of the exam papers using your phone and whatsapp to me at 017-7131326. Please make sure the pictures are clear and readable.
All
the trial exam questions are useful for exam. Please try all the questions to prepare your exam.
STPM 2015 Term 2 Mathematics (T) Trial Exam Papers Collection
UPDATE 20/04/15 : MBS (KK LEE comment : Due to request from school teachers, comment is removed. Please try all the questions. )
UPDATE 01/05/15 : St John (KK LEE comment : Due to request from school teachers, comment is removed. Please try all the questions.)
UPDATE 05/05/15 : Chung Ling PP (KK LEE comment : Due to request from school teachers, comment is removed. Please try all the questions.)
UPDATE 05/05/15 : Sabah (KK LEE comment : Due to request from school teachers, comment is removed. Please try all the questions.)
[scribd id=262431516 key=key-jHjKvekTHmuFbayflk1J mode=scroll]
STPM 2015 Term 2 Mathematics (M) Trial Exam Papers Collection
Still waiting… 🙁
I will go some google search to collect some papers asap. If you have the collection, please share it to me. Email to akeong@gmail.com. Thanks